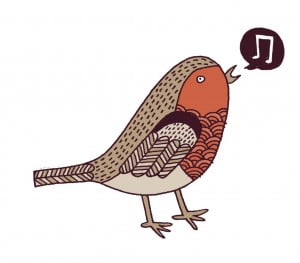 If you fancy a quick chat with someone, don't choose a robin, because they don't do quick chats, just epic ones that require refreshment half way through. Being a ground bird means that they're big into detail, and being a sound bird means they love to talk, so you'll never get a Readers Digest version of anything. Often they need to talk out loud to know what they're thinking, so they'll tend to have someone with them when they shop, and will be happy to recruit complete strangers for an opinion if nobody familiar is around.
Rules are often very important to a robin, and you'll get a lecture if you contravene one of theirs. Also they mistrust any idea that isn't supported by facts and evidence – the more the better. And don't bother trying to argue over who said what – they can usually recall past conversations word perfectly. Annoying.
To find out how robins know they're loved, what to do make them happy, what's likely to turn them on in the bedroom, and the challenges that arise from a combination of them with any other Lovebird, buy the book by clicking on the image.