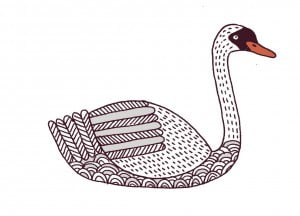 Swans are creatures for whom comfort tends to be very important. Sometimes it seems as if their life is a continuing pursuit of the best experience they can have of anything in their life – the best coffee, the comfiest bed, the softest underwear. To people who don't share this passion they can seem quite hard work, but it's only because they are so sensitised to the world they live in – they literally feel more than most people. This can make them tremendously empathetic and emotionally intelligent – their skills are likely to centre around people, or finding some way to utilise their talent for physical things. A lot will have done badly at school simply because our education system doesn't cater well for practical learners.
As a ground bird they can be very particular, some would say pernickety, about the way the like things, and will have set rules that you ignore at your peril.
To find out how swans know they're loved, what to do make them happy, what's likely to turn them on in the bedroom, and the challenges that arise from a combination of swans with any other Lovebird, buy the book by clicking on the image.