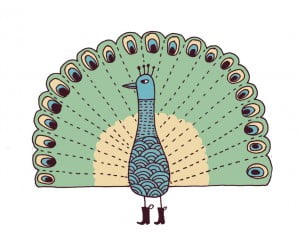 Peacocks are ground birds, which means that they're good with detail and are happiest when decisions that need to be made are based on concrete evidence – they don't tend to trust people's hunches. They often have rules that are very important to them and can get disproportionately upset if others don't honour them. Their way tends to be the right way. Good organisers, they're best left to run the finances and…well everything, really.
As sight birds the way things look tends to be important to them, from their own appearance to the style oftheir home, to their partner's fashion choices. If you're in a relationship with a peacock you have to get used to the fact that how you look is a reflection on them, and they're probably likely to have some strong opinions. If you do too…there's going to be fireworks The Gap may come between you.
To find out how peacocks know they're loved, what to do make them happy, what's likely to turn them on in the bedroom, and the challenges that arise from a combination of peacock with any other Lovebird, buy the book by clicking on the image.